Behind the Eye of the Tiger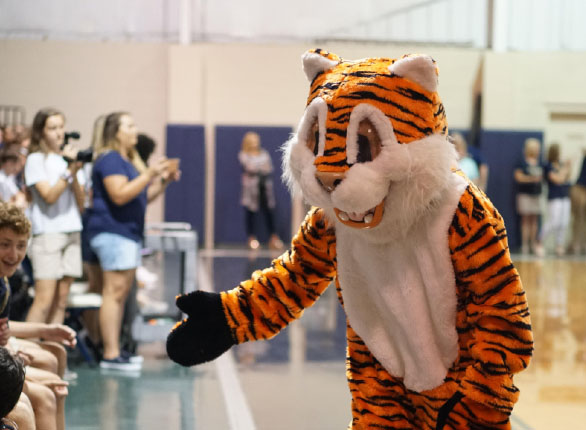 Hang on for a minute...we're trying to find some more stories you might like.
Excitement is in the air under those Friday night lights. The HT football players are working their hardest in the last few minutes of the game to stay in the lead. The cheerleaders are chanting, trying to keep the crowd exhilarated. Alongside them is HT's mascot: the tiger. The mystery continues as students wonder about which of their peers is the mascot as he dances and works to keep the pep in the air at school events. 
Before he became the tiger, ninth grader Dylan Johnson was just like any  student who attends the football games. At one particular game, he was cheering louder than ever for his sister, ninth grader Bella Johnson, as she was cheerleading. After the game, cheerleading coach Mrs. Welch was impressed by Dylan's cheering. She strongly advised Johnson that he should try  to become the mascot, and he agreed. Johnson already loved coming out to support the team, why not become the person who keeps the hype up, the mascot? Not only was he excited, but it was very convenient because he already knew the cheerleading coach through his sister. Johnson then learned how to become the best mascot by sitting through cheer practices and having  Mrs. Welch construct him. 
At first, getting used to the mascot uniform was not so easy. Although the uniform is easy to slip in and out of, Johnson says that the uniform is hot all the time and that the first ten minutes are the hardest to get through. When it gets really tough during the football games, he sometimes goes to sit under the bleachers, takes the tiger's head off, and just tries to relax. 
Johnson's favorite part of being the mascot is seeing everyone's reactions to him jumping around and dancing. He loves to hype everyone up and keep the students excited. So far, Johnson has performed at two pep rallies and several football games. He says his favorite events are pep rallies because so many people attend, the room is filled with energy, and everyone goes all out. 
"Nobody can take my position because I am the best mascot that has ever lived," said Johnson.
 He made it clear that he will continue to be the best mascot he can be for the future.