Truck Row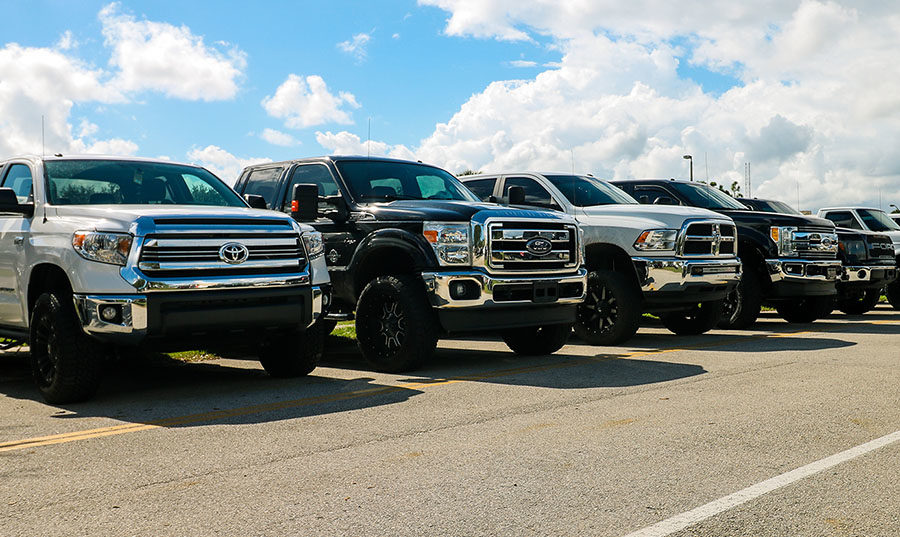 Payton Yates, Staff Reporter
November 16, 2018
Holy Trinity is known for many things including an exceptional education, uniforms, and a cult of rich kids, but perhaps the most visible image on this campus is the collection of trucks gathered by the grass lot of HT. This line contains trucks of all sizes, including F250s and 150s. It possesses blue ones and black ones, and some even with a horn so loud that it scares students walking by. There have consistently been trucks here, but with recent construction, this mess has become a militarized line in the corner of HT's parking lot.
"I don't mind truck row. I believe it adds charming personality to our school," said junior Kailey Dunne.
Personality is a big part of HT, and some students are happy with this big boost.
The truck row is almost unmissable. Truck Row is even noticeable when driving past on Pineda. It might seem to be a little excessive, but these rides have been a tradition for the last few years. Students that have been here since seventh grade can't recall a time without a cluster of trucks.
"I think Truck Row is really cool. The people are a lot of fun, and I believe it increases the great environment that Holy Trinity already provides," said junior Edward Marr.
Truck Row doesn't seem to present a problem for the average student, and many see it as a positive to the HT way. Most of the students who park here represent a popular part of our community. Adding a bit of fun to our extraordinary school is undoubtedly a big plus to the students of HT.
"It's nice," said junior Jack Wadsworth. "It's a chance for us to flex on other cars."
Wadsworth parks in this street of trucks and is part of the support for this Holy Trinity trend. Truck Row is a way for the students who own trucks to display their uniqueness and their passionate love for the oversized vehicle.