A Holiday Tradition: The Nutcracker Ballet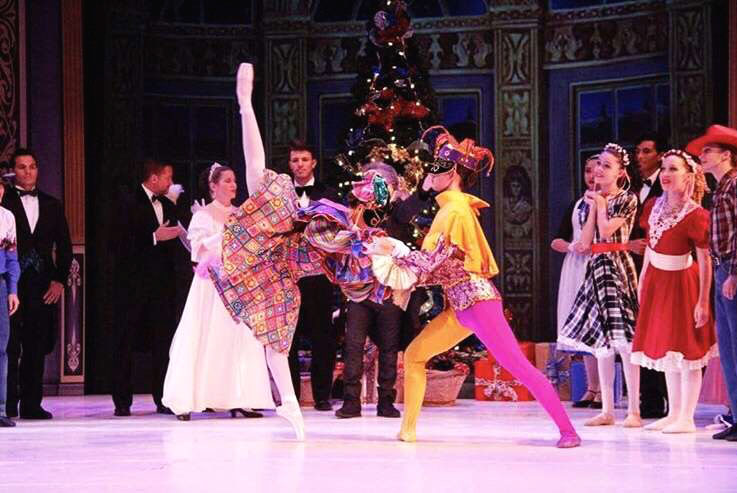 Mia Boos, Staff Reporter
December 18, 2018
Decorating the Christmas tree, cooking holiday dishes, hanging up colorful lights, visiting family members, and opening gifts are usually what most people imagine when the holiday season is brought up. All children and families have their own traditions when it comes to celebrating Christmas. For some, it may be going to watch the annual Nutcracker ballet. The Nutcracker is a story about a young girl who dreams of a Nutcracker Prince and ends up having a fierce battle against a Mouse King with seven heads. But for two Holy Trinity students, it's the unique opportunity to experience the ballet from the stage.
Junior Heather Motro and sophomore Sofia Muniz both dance in the Nutcracker ballet during the holiday. They both started dancing at a young age, and continued to enjoy it as years went on.
"I started dancing when I was four. My mom really wanted to be a professional dancer when she was young, but unfortunately she was never able to fulfill that. So, she got me into ballet when I was youwng, hoping one day I could become a professional dancer," Muniz said.
Both girls have a passion for dancing and really present their talents in the Nutcracker ballet.
"In ballet, every movement is designed to create an image out of music. When you're dancing, you're part of the music — you're part of a piece of art. It's a really beautiful feeling," Motro said.
While Motro started dancing in the Nutcracker last year,  Muniz started when she was around five years old. Even before ballet, one of Motro's family traditions involved going to watch the Nutcracker.
"When I was younger, my family and I always went to see the Nutcracker during the holiday season. I was enchanted by it. Now, I get to watch it from the best seat in the house — on the stage," Motro said.
Muniz has made countless memories dancing and she is very passionate about it as well.
"My favorite memory would be dancing with my best friends on stage and seeing how amazing the finished product comes out to be. I really enjoy the acting and overall production of the Nutcracker," Muniz said.
Although the overall idea of a holiday ballet performance is delightful, there is a lot of hard work that goes along with the practice and production of the ballet.
"We usually start rehearsals around October and may extend our time to two or three hours so we can rehearse. The first month is mainly just to get the dances down and then get into cleaning and perfecting them," Muniz said.
"Many, many hours of hard work goes into the practice. We practice during what would normally be our regular classes, then we rehearse as a company on Saturdays. In addition, I spend a lot of time practicing my solo at home," Motro said.
When watching the Nutcracker ballet, the audience may view it as elegant and poised, but for those behind the curtain, the fear of a fall or misperformance is nerve racking.
"The scariest part about dancing on stage is definitely the fact that anyone can fall. Sometimes I can get so nervous that I forget things. I've had to learn to not think about how many people are watching, but focus on what I'm about to do," Muniz said.
Motro and Muniz enjoy doing ballet for the Nutcracker performance each year. They both devote many hours of their lives to pursue their passion of dancing. 
Even though it takes a great deal of practice and effort, the dedication of these two dancers really pays off in the end. These two girls spend their holiday season on stage, spreading the holiday spirit while doing something they enjoy.