Getting Into Geer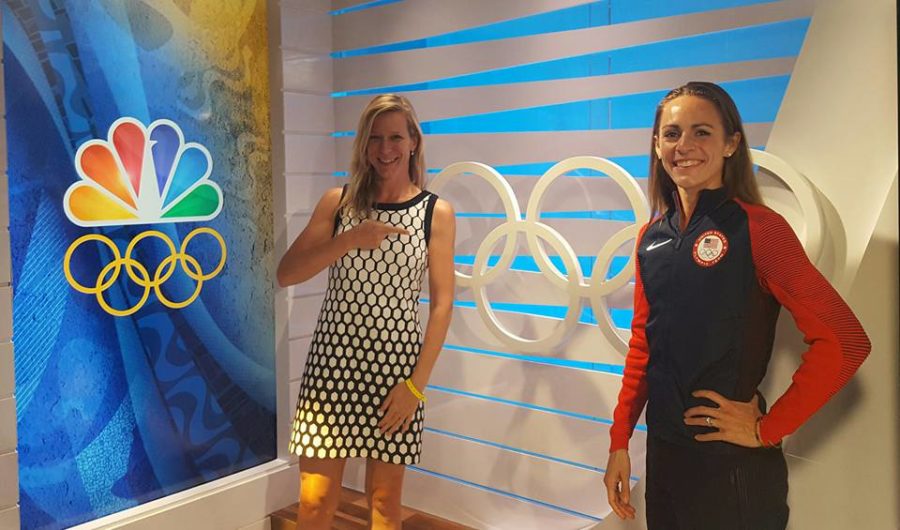 Imagine hosting a press conference for four of the most talented American athletes during the Olympics, representing USA Track and Field in honoring the 1984 men's Olympic team, or traveling all around the world to various countries. These are some of the amazing opportunities Jill Geer has experienced throughout her career as Chief Marketing Officer for USA Track and Field.
When Geer was in eighth grade she was assigned a paper for her English class about a career.  The options she gave herself to choose from were a lawyer, teacher, and journalist.
"I started doing my paper on being a lawyer. In doing the research, I discovered that being a lawyer didn't sound very interesting, so I switched my topic to journalism," Geer said.
Since writing that paper, Geer started to work on the middle school student newsletter to take her initial step into the world of journalism and media.
In college, Geer worked on earning a major in history and a minor in philosophy at the University of Arkansas, while being a part of the track team. However, trying to pursue a career in journalism while being an athlete can be hard to keep together all at once. Because of this Geer stopped competing in track her junior year in college.
"It was clear that I was at the point where I couldn't be as successful as I wanted to be on track if I didn't totally devote my focus to it. Journalism, my professional and academic future were far more important to me than track, especially since I wasn't exactly a collegiate star on the track," Geer said.
While not having journalism classes or experience in the field, Geer joined the campus newspaper as a junior and became the sports reporter, and later became the feature editor. In her senior year, she became the sports editor.  
Even though finding a role on the newspaper staff was easy in college, once she graduated it became a little more difficult.
"I tried to get a sports writing position with the local paper in Fayetteville, Arkansas when I graduated but made no headway. So I became a waitress, which is something I had done in high school," Geer said.
After waitressing for two years, her opportunity finally came to further pursue her career in journalism.
"The women's sports information director tracked me down in the restaurant where I worked to offer me a graduate assistantship in women's sports information, which enabled me to start work on my master's degree in history. After one year as a grad assistant in sports information, the sports editor of the local paper called me to say they were creating a women's and Olympic sports writing position," Geer said.
After accepting the Olympic sports writing position, Geer worked her way into being head of communications for USA Track and Field in 2000. Her role throughout the Olympics, or any other event involving the national team, is to manage public relations for the company and the athletes. She writes and delivers press releases and handles all communication sent to the public regarding USA Track and Field.
While working alongside the team, Geer has traveled to many locations all around the world for events such as Spain, England, Bahamas, Greece, China, Korea, Japan, Australia, Hungary, France, Canada, Mexico, Portugal, Germany, Russia, and Brazil. Also, being in so many foreign countries can create some interesting stories to tell afterward.
"I have crazy stories from almost every location. . . from walking 1.5 miles through a snowstorm to the team hotel in Birmingham, England, to being surveilled by the Chinese government in Beijing, to being mistaken for Steffi Graf in Turkey, to running up the Acropolis in Athens in 1997 with a fanny pack and a camera to snap a photo of the Parthenon about two hours before my flight home," Geer said.
After having a long and tough career with USA Track and Field, Geer recently moved on to work in a different position as the Chief Marketing Officer at the American College of Education in Indiana.  
From Ripon, Wisconsin, to Fayetteville, Arkansas, to Indianapolis, Indiana, Geer has made a significant impact on the world of journalism and has inspired many young journalists by showing them what is possible for their careers.
Now she has gathered up the best advice for anyone looking to pursue a career in journalism.
"It is important to recognize that your career may or may not be in journalism — the media landscape is changing so rapidly, it is impossible to predict what "journalism" will be like even five years from now. Learn how to research, write, navigate digital media, manage people relationships. Learn critical thinking and problem-solving. Any job is an application of skills, and you want a wide range of skills to apply to an ever-changing media landscape," Geer said.