Newfound Talent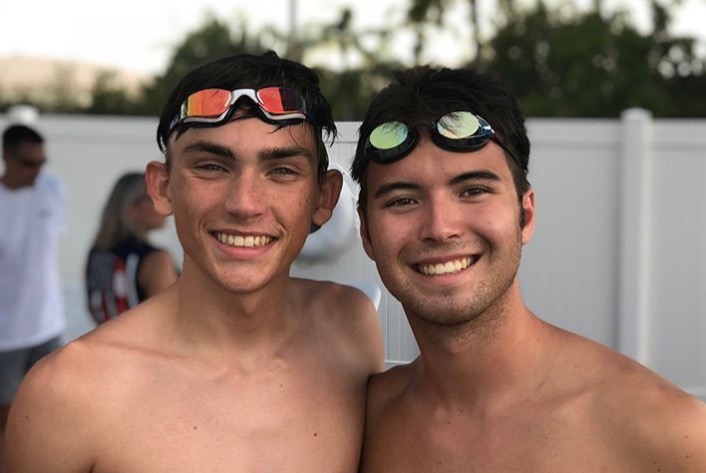 Karis Assam, Staff Reporter
January 24, 2019
Taking risks can always be scary, but junior Jacob Coggshall didn't feel this fear when jumping into the deep end. Coggshall played basketball growing up, starting in kindergarten. After being encouraged by his dad, who also served as his coach, which just brought him that much closer to the sport.
"I think our love of basketball definitely helped us bond, and we became close because of it," Coggshall said.
However, Coggshall has recently experienced a shift in interest, with the final straw being drawn this past school year. Without a vision for his future basketball career, Coggshall found himself yearning for a change.
"As the years went on, my love for the sport started to dwindle away because I didn't see a future for me in varsity; if I did make it to varsity, I would barely get any playing time," Coggshall said.
With this realization, Coggshall started to think about his options. Out of all the sports, his mind fell on swimming. Coggshall explains that he used to be good at swimming as a kid, and had a lot of friends on the team, including his best friend, junior Brandon Assam. So, with a leap of faith Coggshall jumped into the pool to start training for the first time since second grade.
Switching sports has been a positive change for Coggshall, and has presented him with new challenges and experiences. 
"I think changing to something new is great because I was getting so bored with basketball and in swimming I saw a passion, and was like hey I'm naturally pretty good at this," Coggshall said.
Since reinstating his swimming career that was previously put on hold since '09, Cogshall had no regrets. His events include the 4 by 100 freestyle relay, 200 medley relay, 50 freestyle, and 100 butterfly. Not only has he experienced personal records during every swim meet, his greatest PR being a drop from 1:10 to a time of  1:03 in the 100 butterfly. He even made it to regionals in all four of his competing events his first year on varsity swimming.
Now, Coggshall holds regrets not starting sooner, but he's grateful that he started at all. Through this experience, Cogshall learned a lesson to not just just stick with something because it was his safety net. So maybe we should all take a leap of faith once in a while; because who knows… maybe you'll find your own new talent.