Krieger Impacts Athletes in Brevard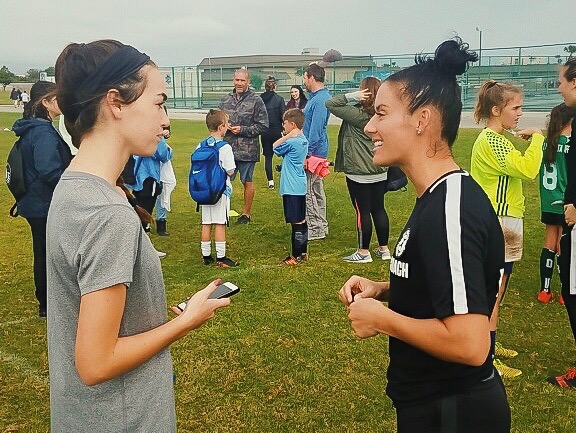 Professional soccer player and World Cup champion, Ali Krieger, took the field in Indialantic as part of her recently launched youth soccer camp. Established in July of 2018, Ali Krieger Football Camp is an ongoing series of instruction sessions, clinics, and camps for soccer players nationwide.
AKFC is a soccer program tailored to athletes at many levels, from beginners to athletes looking to play at the collegiate level. This past February 10, Krieger made her way to the Hoover Soccer Complex with fellow teammates, USWNT and Orlando Pride goalkeeper Ashlyn Harris along with Orlando Pride defender Toni Pressley.
Close to 150 athletes attended the camp, which was broken up into two sessions. Talented coaches from the area came together and assisted with training. This strong program made its debut in July and Krieger has no plan of stopping anytime soon.
"I hope to grow this [camp] every year, so much bigger, and I want to continue to do 15-20 camps every single year to try and impact as many kids as I can," Krieger said.
Krieger's main goal for this program is the impact she has on the athletes working to make it to the next level. However, making it to the next level takes a lot more than just training, in which Krieger is very familiar with. Playing Division 1 soccer at Penn State is when she realized her potential to make it professionally, leading her to then think about what she's accomplishing every day to reach that goal.
"I was saying to myself in college, if I'm serious about this, I need to make sure I'm training my hardest, eating what I need to eat, and getting the proper rest in order to perform at my very best," Krieger said. "I think I really became a professional at that point."
She also credits her success to putting herself in uncomfortable situations to get better. Continuing to challenge her abilities is what helped propel her to the next level, the U.S. Women's National Team.
Making the national team was a huge accomplishment for Krieger. This opened up many opportunities for her as a player, as she is now one of the most well-known female soccer players in the country. Whether Krieger steps on the pitch in her purple and blue jersey or in the stars and stripes, there's one thing she cherishes the most.
"Besides all the accolades, all the successes and the gold medals, I think just building my friendships with my teammates has been the most enjoyable part, and now they're some of my best friends," Krieger said.
A typical day for Krieger is not so typical. Four hours of training every day, meetings, and recovery are all key components of her day-to-day routine. While in season, her set schedule consists of morning training, individual meetings, defensive or attacking meetings, a healthy team lunch, and sometimes even a weight session.
"If I train for about four hours in the morning, I'm home for the rest of the time, running errands, trying to keep my life together," Krieger said. "I prepare for the next day and do all the recovery I need to do to perform at my best."
Although Krieger is thriving in her professional career, in four or five years down the road when she hangs up her jerseys, she hopes to build off of this brand she has developed and make an even stronger impact on athletes around the country.