AV Club Transforms Tech at HT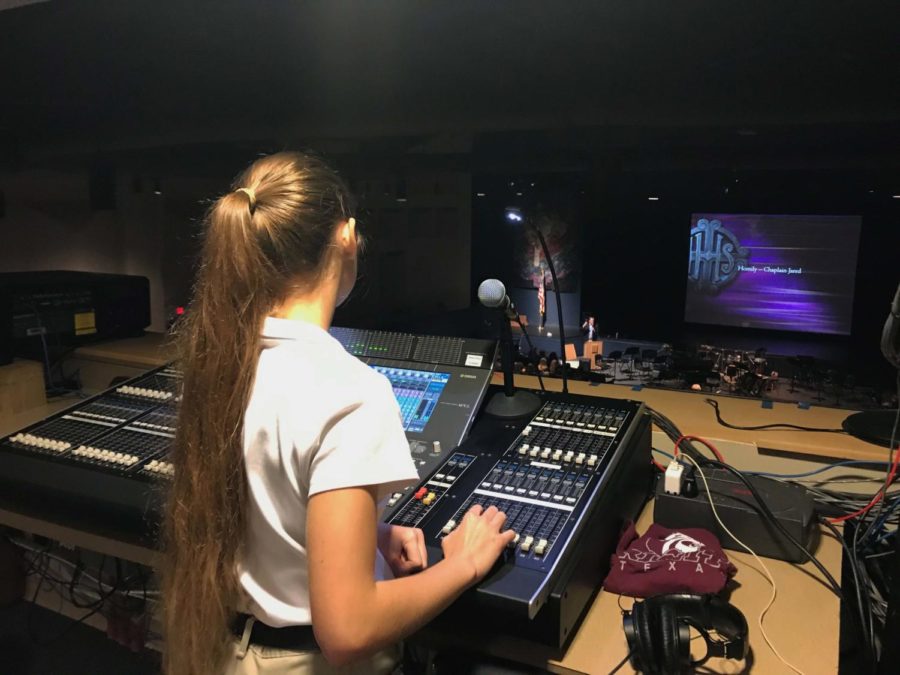 The Holy Trinity Audio Visual (AV) Club has been the backbone behind all things in the Scott Center for many years. However, in recent years they have truly exceeded expectations. The group consists of 13 members who all have a job to make productions at Holy Trinity truly stunning.
The club's daily duties include running chapel and ensuring that all goes well on the tech side. They rotate who is working in the booth for chapel depending on the day. They also take on tasks such as maintaining lights and technology that are used in the Scott Center as well as running the audio system. They also play a big part in school plays and musicals.
"It is one of my favorite parts about coming to school. I love the teamwork and I love the people who are in the club," said junior Harrison Tinker.
Tinker has been in the club since January 2018 and has found a passion within it. He said that everyone in the club has their different roles. For example, senior Marco Anello loves audio and is extremely knowledgeable and good at the audio side. Tinker doesn't like to stick to one area and likes to know about many aspects, while senior Brooke Meeks is a master at the lighting system.
"Everything is changing and evolving and a lot of things just don't work. So many times we are in the auditorium during break trying to fix a problem, trying to learn something new, teaching each other things, and trying to make the auditorium a better place," said Meeks.
The AV club also works events for organizations other than Holy Trinity as well. They are practically the provided tech crew for any organization that rents out the auditorium such as The Brevard Youth Symphony Orchestra.
The AV club does more than one can imagine at Holy Trinity. Their passion can be clearly shown throughout productions at the Scott Center. The club is currently at capacity, however with many seniors leaving the club will be taking on new members next school year.