Heart Screenings at HT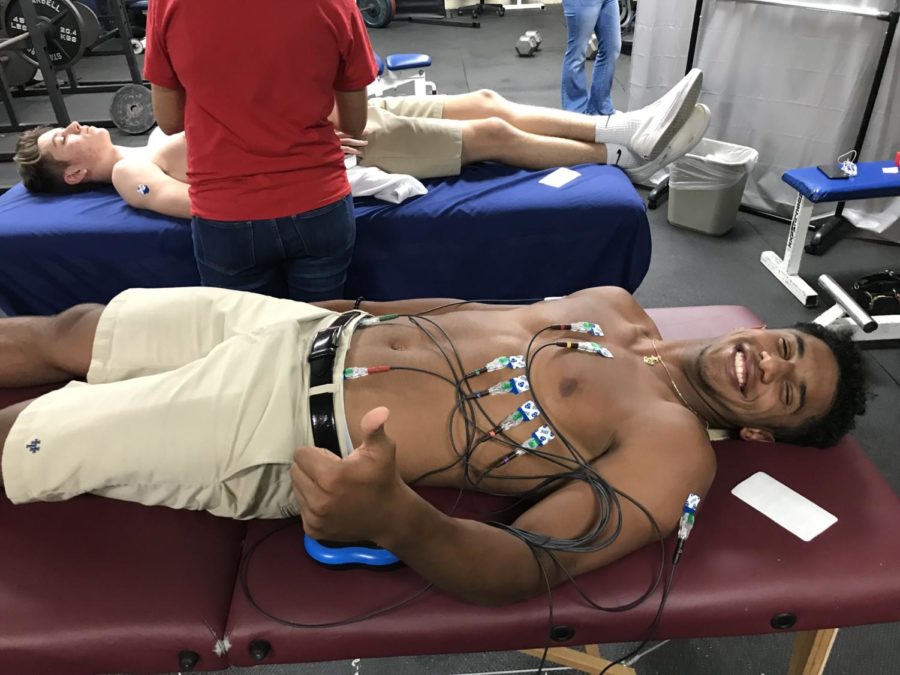 Something that you don't really thinks about but is crucial to keeping you alive: your heart. The human heart beats about 80 times a minute, which is around 115,000 times a day. While most basic checkups include the use of a stethoscope so that doctors can get a general idea of how your heart is, stethoscopes don't always pick up on more serious issues. Any type of heart problems can potentially be fatal, especially if you are unaware of any problems. Yet, in today's society, the heart might be one of the least checked on parts of the body, which is something Who We Play For (WWPF) wants to change.
WWPF wants to put an end to sudden cardiac arrest (SCA) in youth by providing affordable heart screening, and giving students access to them. Recently, Who We Play For came to Holy Trinity to give students the opportunity to get one of these heart screenings.
Stacey Sima started working with Who We Play For after her daughter experienced sudden cardiac arrest in 2016. After that, Sima realized how important it is for young people to get heart screenings.
"We were given our daughter's life back. Her heart stopped and they brought her back. We want to give back," Sima said.
Finding arrhythmias in students so that they can get the medical care they need is the most rewarding part of this to Sima. She wants to make sure that no other family has to go through the scare she went through when she almost lost her daughter.
While all students should take advantage of these available heart screenings, student-athletes might have more incentive than most. According to WWPF website, SCA is the leading cause of death on school campuses and sports.  
Holy Trinity students definitely took advantage of this, this year. According to Nurse Emily, more students came to get their hearts screened this year than two years ago, the last time WWPF came to HT.
"We've had a really great turn out today, even more than we anticipated. We've done about 75 kids which is way more than two years ago," Nurse Emily said.
In the end, about 130 students came for heart screenings, leading to an overall great turn out.
This growth in students coming to get their heart screened is a step in the right direction for a more heart healthy world. Participating in events like this can make students feel safer, knowing that there is nothing to worry about in regards to their health, and finding out about a problem while it's still manageable is much more preferable to finding out when the issue could possibly be fatal.