Getting to know Deputy Mark Spencer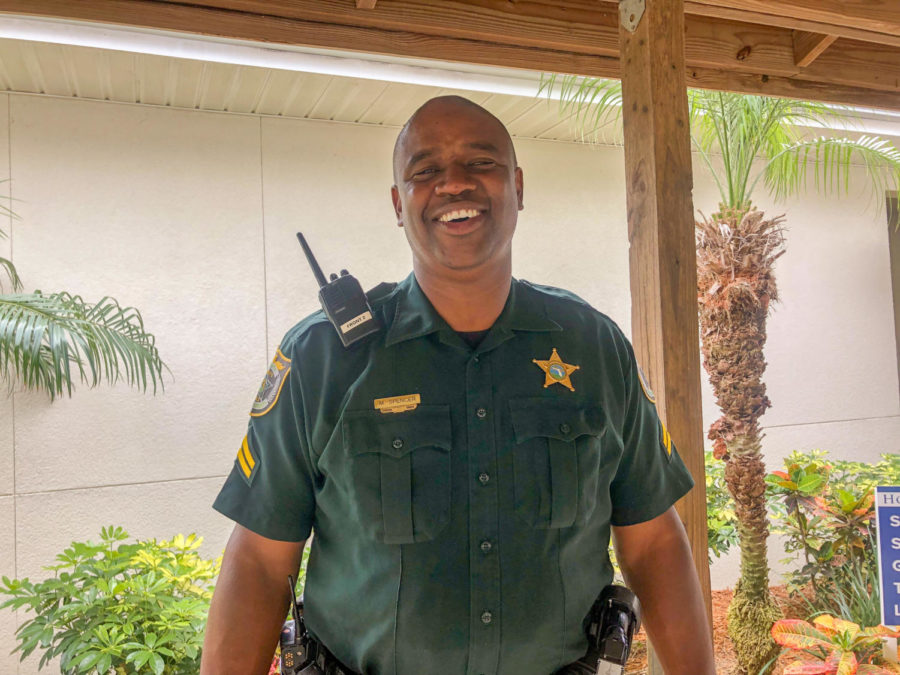 Mia Boos, Staff Reporter
April 2, 2019
When the term "sheriff" is brought up, many people instantly imagine the stereotypical version, a guy in uniform chasing after the bad guys with a gun. But, there are many more depths and characteristics to becoming a sheriff and how it affects their lives. Sheriffs and other members of the workforce have many of their own duties for their career, but they also have a life outside of the job. For instance, take HT's newest protection, Deputy Mark Spencer as an example.
Just eight years ago, Spencer made the decision to become a cop. He had a few jobs before joining but never had the interest to stay with them.
"I was working at a bank for a long time, but I got tired of wearing a suit and tie every day. I started talking to one of my buddies who was a cop in Atlanta, and he said I should go to the Academy. I thought about it for a while and after the mortgage business crashed, I was looking for a change," said Spencer. "So, I went and did some pharmacy stuff but ended up hating it, because I never really liked working in that kind of environment. Finally, I decided to go to school and become a cop and that is how it all started."
Deputy Spencer enjoys working as a cop. He started working at HT not too long ago and has enjoyed every part about it so far.
"My favorite part about working at HT is the kids and the staff. Everybody has been so great to me and it is a good school to be at. The majority of the kids here are amazing and they are very pleasant to be around, as well as the staff. In general, my favorite part about being a cop is just being able to help and serve the people," said Spencer.
Now that Spencer works at HT, he has plenty of free time for himself. With all of this extra time, he enjoys playing his favorite sports and doing his favorite hobbies.
"Other than playing basketball, I really like to wakeboard because I love the water. I am a sports person, so I also enjoy playing things like ping pong and pool," said Spencer.
Deputy Spencer never expected this would be his career when he was a child.
"When I was growing up, I fully believed I would be a basketball player when I was older. I never expected to be a cop. But, today I really enjoy this job and if I was not a cop right now I would want to be the President," said Spencer.
Overall, Deputy Spencer takes pleasure in his duty and feels that he chose the right position for himself. He has enjoyed every bit of being a sheriff at HT and is excited for the future and more things to come.