Eilish Delivers with Debut Album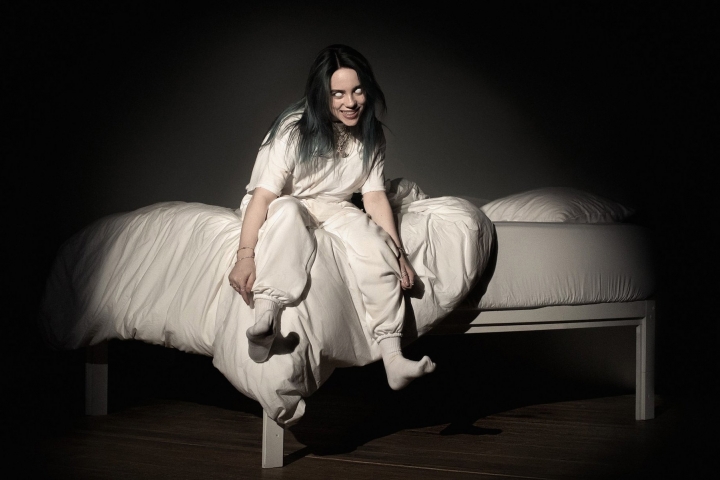 The debut album from homeschooled 17-year-old pop star, Billie Eilish, delivers a bass-heavy, dark, and intense tone to listeners on March 29th. This project, created in a tiny bedroom, contrasts with Eilish's previous EP, "don't smile at me," which is filled with happier and lighter melodies.
When We All Fall Asleep, Where Do We Go? produced by Eilish and older brother singer-songwriter, FINNEAS, consists of 14 extremely well-written and produced songs, including top single hits you should see me in a crown, bury a friend and when the party's over.
Starting off the 42-minute album is !!!!!!!. The first track is a quick 13-second clip of Eilish and FINNEAS laughing where the two say, "I have taken out my Invisalign, and this is the album," acknowledging the Invisalign retainers Eilish wears every day.
You may find yourself turning your volume all the way up when listening to track two, bad guy. Lyrics such as "I'm that bad type/Make your momma sad type/Make your girlfriend mad type" show off Eilish's taunting towards her lover. On the same day the album came out, the music video was also released.
In the bass-heavy track, xanny, Eilish says no to drugs to "feel better." In an interview with The Guardian, she establishes that the meaning of track three is more of a 'be safe' message rather than 'don't do drugs.' The song includes parts of piano, guitar, a powerful bass synth, and even some background dialogue.
Track four, you should see me in a crown, explores Eilish's ego boost and acknowledges her growing celebrity status. In the beginning lyrics, Eilish states, "Cold in my kingdom size
fell for these ocean eyes," referencing her debut hit, Ocean Eyes. When speaking on Apple Music's Beats 1 radio show, Eilish made known that this song was actually written soon after the hit.
In track five, all the good girls go to hell, Eilish twists symbols of Christianity by referencing Lucifer and the reoccurring lyric, "My Lucifer is lonely." FINNEAS has previously stated to Vulture that the track is about climate change. In the pre-chorus, Eilish says "Hills burn in California," referring to the extreme California wildfires in 2018.
Most people have been rejected by someone they've liked before and in wish you were gay, the fourth single from the album, Eilish tells about how that felt for her. She felt he didn't like her because she was not a good person and wanted another reason for that; being gay. Throughout the song there's a number sequence where Eilish counts down from six and again from 12, adding a fun way to reference twelve steps that may be needed to get over someone.
The second single released from the album, when the party's over, shows Eilish distancing herself from her lover. Eilish describes the song as "an angry mood" rather than being a depressing song. The lyric "call me friend, but keep me closer," references the expression 'keep your friends close but your enemies closer.' This lyric acts as if the relationship between the two is romantic, but really it's just a friendship.
Track eight has a very creative song title, 8. 8 is the studio version of a previously unreleased song called see through. The song, just under three minutes, is presented through the perspective of somebody Eilish has hurt. The lyric "I just never know how you feel, do you even feel anything?" suggests Eilish putting herself in their shoes.
For fans of The Office, you're in luck. In my strange addiction, Eilish includes snippets from The Office; season 7 episode 17. To open the song, Eilish adds a vocal snippet of character Michael Scott saying "No, Billy, I haven't done that dance since my wife died." In verse one, the use of the metaphor "shoulda taken a break, not an Oxford comma" says Eilish feels she should have stopped with this person rather than adding it as another thing to her list.
bury a friend, the third single released from the album, was accompanied by a music video at its release. In an interview with Complex Magazine, Eilish stated that "the whole album clicked" when bury a friend was made. Throughout the song, it's written from the perspective of a monster living under Eilish's bed. In the first verse, the chilling line "like I wanna drown, like I wanna end me," Eilish expresses that she herself is her own enemy.
Ilomilo, pronounced "ee-low-me-low," is based on a puzzle game where characters Ilo and Milo come together. To add to the album's theme of fear, this track is about the fear of separation. During her episode of Hot Ones, Eilish said "…The whole idea is just like, losing the person you love and then finding them again."
One of the darkest songs on the album, listen before i go, is about suicide. Eilish warns her lover to come back and love her before she kills herself. When talking to Genius, she stated that the song isn't necessarily about something she's been through, "You don't have to go through anything to write about it, or you can go through everything and write about something else," Eilish said. "It's literally like telling a story, you can write about something you've done, you can write about something your friend's done."
Track 13, i love you, explores a complicated relationship and includes FINNEAS' background vocals. This song, a soft harmonious ballad, is Eilish's longest piece of her discography at four minutes and 52 seconds long. In the second verse, "up all night on another red-eye, I wish we never learned to fly," can be interpreted as Eilish wishing the relationship never started. It refers to a red-eye flight she took or also suggests Eilish spent this night crying about her lover.  
The final track of the 42-minute album is goodbye. This song is unique in the way that it is a combination of every song on the album. Each line of the song is a lyric from every previous song, such as "It's not true," (i love you), "Take me to the rooftop," (listen before i go), "Told you not to worry," (ilomilo) and continues on for the entire one minute and 59 seconds. Confirming in an interview with MTV, Eilish said she hates when albums "just end," "I really wanted something to feel like a finish line, to feel like a period at the end, you know?"
The album has already peaked at number one on the US Billboard 200 and Billboard Top Alternative Albums, along with reaching number one in other countries.