Games Not to Miss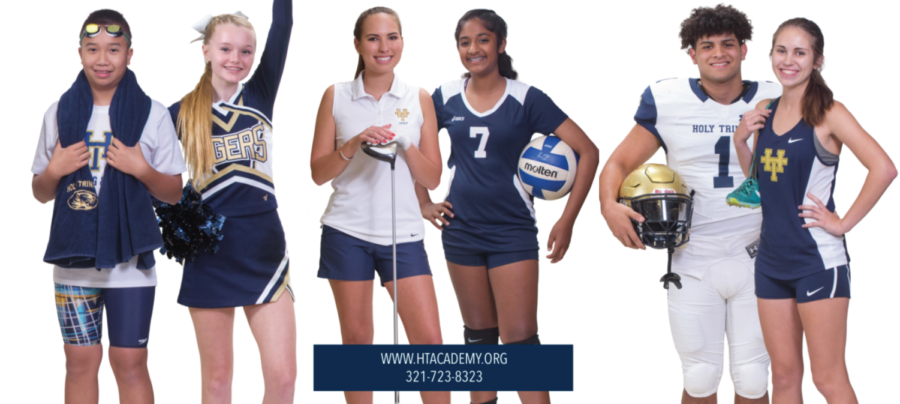 As the school year starts, Holy Trinity teams have been hard at work preparing for the upcoming fall sports season. With this season comes rivalries, traditions, and fun games for the players and the students. Here are some of the go-to games for the 2019 fall season:
Football:
Friday, September 13th– Home opener against Space Coast Junior/Senior High School
After a month of the football team is in season, they will play a new opponent for the home-opener with the classic HT vibe given off by the pep band and the student-filled crowd.
Friday, October 11th– Homecoming against Coral Springs Charter
After a fun-filled Spirit Week and Street Party prior to the game, the Tigers will play their annual Homecoming game for one of the last home games of the season. 
Volleyball:
Tuesday, September 10th– Home match against MCC
With the gym being redone this year, the volleyball team will only have four games at HT this season. The girls will be facing a rival, MCC, for their home opener with the Ambush and pep band in attendance.
Monday, September 30th– Annual match at Viera High School
Every season the volleyball team plays against Viera for the annual game for Breast Cancer Awareness month.
Swim & Dive:
Wednesday, October 16th– Meet at St. Edwards against MCC and St. Edwards
A month into the season the boys and girls swimming and diving teams will travel to St. Edwards in Vero to face off against their rivals MCC and St. Edwards. With this being the last scheduled meet of the season, it's important for the Tigers to do well here to set themselves up for the post-season.
Boy's Golf:
Thursday, August 22nd– Home match against MCC
During the first week of their season, the boy's golf team will tee off against the rival, MCC, at their home course at the Suntree Country Club. 
Girl's Golf:
Thursday, August 29th– Home match against MCC
One week after the boys face MCC, the girls will face their rival at their home turf at Suntree Country Club.
Saturday, September 28th– Vicky Hurst Golf Tournament
The annual Vicky Hurst Golf tournament will fund raise another year for all sports at HT with participation from the golf team, HT families, and other people in the area.
Cross Country:
Saturday, August 24th- Meet at Viera High School
The boys and girls cross country teams will face other local competitors at Viera to officially kick-off their season.
Saturday, September 28th- Meet at Viera High School
A month after their first meet, the cross country teams will go up against more local rivals and competitors.