Becoming Another Statistic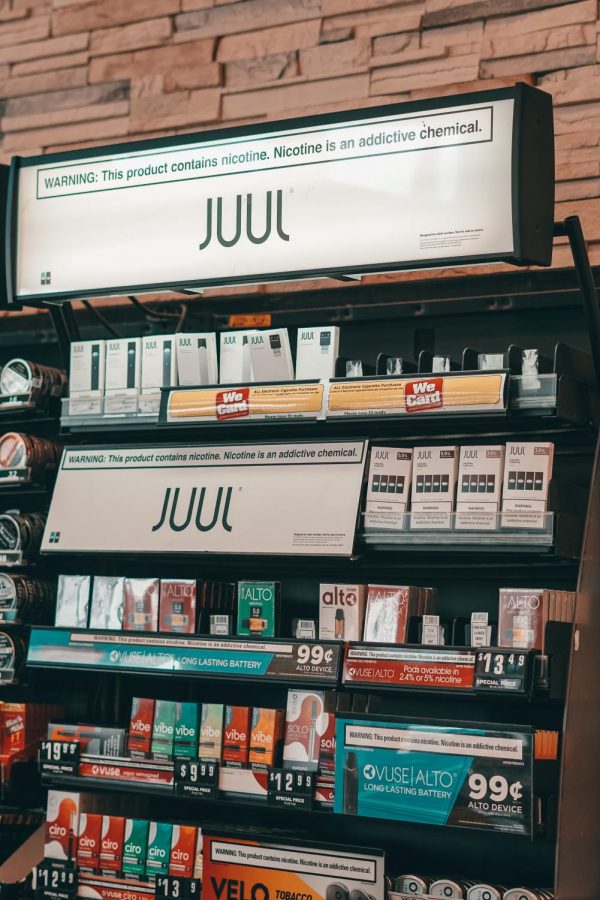 Holy Trinity administrators continue to be concerned about the issue of vaping in light of the recent deaths across the country this past year. HT works hard to ensure that the campus is vape-free and takes action on those who involve themselves with the subject. There is absolutely no tolerance for the subject and this school year, there have not been many cases. 
The school is not alone in their concern. Recently, Brevard County Public Schools voted to move forward in the lawsuit against best-selling e-cigarette company Juul. This lawsuit is one in more than half a dozen filed nationally against Juul Labs. 
However, compared to other schools across the country, HT is very well-off. The Centers for Disease Control & Prevention (CDC) says teen vaping surrounds more than 1 in 4 high school students and a federal survey shows that 27.5% of high school students have used a vape in the past 30 days. Across the country, many students are just beginning to realize that they may be adding to the death toll. Vaping has become an even greater issue over the past few months due to the rising amount of deaths from vaping-related illnesses.
Vitamin E is naturally found in foods, cosmetic products, and used as a dietary supplement. Now it is seen as a harmful chemical, being the leading cause of sickening thousands of people and causing deaths across the country. Those who vape are not immune to the symptoms and harmfulness that chemicals bring to e-cigarettes, or vapes.
There are many different varieties of vapes in the market, but a popular one among teenagers are "dab pens", or vapes containing tiny little concentrates of THC (the main active ingredient of cannabis). Vitamin E is used in the production of these vapes because it takes after THC oil, thus attracting more users. Although there is no single factor to what is resulting in the deaths of these users, Vitamin E is the strongest leading cause of putting these victims in hospital beds. Although used safely in nutrition and cosmetic products, the chemical is not safe to inhale. Due to its stickiness, Vitamin E lingers around in the lungs and disrupts their function.
According to the CDC, 39 deaths have been confirmed in 24 states and the District of Columbia (as of November 5, 2019). Of the 419 THC-containing products the Food and Drug Administration tested, 50 percent contained the substance (November 8th). And in a recent study on the victims in Utah, the chemical was found in 89 percent of the THC cartridges. 
A main contributor to the ongoing issue is the black market's involvement. Illegal suppliers are known to use Vitamin E acetate but the chemical may be used by legitimate suppliers as well. State and federal investigations found that many of the THC products users had were purchased through black market sources. Vitamin E acetate appeals to these sellers due to its cheapness, making it easier to distribute. 
Additionally, there have been many tests to regulate the selling of cannabis. For example, the Liquor and Cannabis Board checked for "potency, moisture, foreign matter, fungi, and residual solvents," but these tests did not consist of checking for chemicals. These tests have become more relevant and important due to the recent health threats from vaping. Because of how new these products are, many scientists do not know what they are looking for. Experts are not positive about how much these regulators know about the ingredients in these vapes when they regulate the products. In February 2018, the American Cancer Society stated, "based on currently available evidence, using current generation e-cigarettes is less harmful than smoking cigarettes, but the health effects of long-term use are not known." 
A strong misconception with vaping is that its main intention is to help smokers quit. Unfortunately, non-smokers and teenagers are those who are most attracted to the devices. The flavors that these vapes bring to their products make it seem like these devices are not harmful. Mint, mango, and tobacco are among the most popular flavors attracting teenagers even more. 
By taking this first step in finding the faults in vaping, there is room for more research to take place and to eventually cease the deaths caused by these harmful devices. In the meantime, HT and schools nationwide are going to keep fighting the effects of vaping.