Spies Make a Splash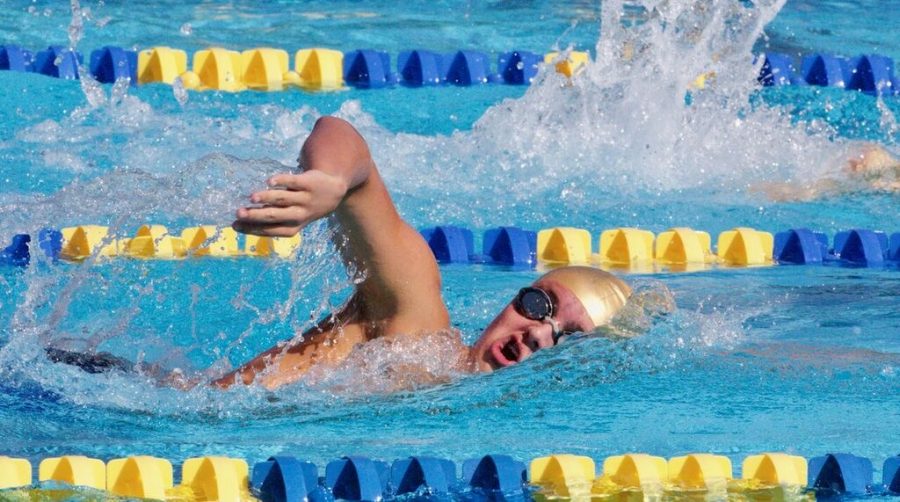 In recent years, the name "Spies" has become synonymous with success for Holy Trinity swimming. Daniela Spies ('18) was captain while on the team, and her younger sister senior Marissa Spies has followed in her footsteps. Not only was Marissa named captain this year, but she also holds school records in the 500 freestyle and 100 breaststroke. As well as that, their brother, sophomore Alex Spies, has already broken school records in the 200 Individual Medley (IM), 500 free, and 200 backstroke. 
This level of success doesn't come without plenty of hard work and dedication. Alex has been swimming competitively since he was 10 and Marissa since she was 12. They have been competing with the club Fast Lane for just over a year, which involves driving to Orlando for training six days a week.
"After school, I usually leave around 3:45 [p.m.] and it takes about an hour [to get there] if there isn't traffic," Marissa said. "We practice from 4:45 to 7:45, sometimes 8. During training, usually three times a week we go to the gym at 5:45 [a.m.] on our own, since the team is in Orlando."
Club swim runs year-round with meets from August-December, January-March, and April-July. The siblings were allowed to attend club practices instead of school practices during high school season due to the never-ending nature of club and overlapping practices. Both Alex and Marissa acknowledged that there are some major differences between high school and competitive swim.
"With high school we just go to the dual meets and district, regionals, and state," Marissa said.
"Club swim is definitely a lot harder," Alex said. "In high school swim, you usually have some fast people there, but in club swimming there's some really, really fast people. Not to say there aren't super fast people in high school swimming, but you typically only see them at regionals or state."
With the conclusion of high school swim in November, the siblings are now focusing on achieving new goals during club season.
"I want to get under one minute in the 100 breast and under four minutes in the 400 IM, and just set myself up for a nice high school season," Alex said. "I just want to keep on improving and get stronger."
"Since I'm already committed, I just want to get stronger before I go to college," Marissa said. 
With such a rigorous club schedule comes a necessary focus on staying on top of schoolwork and achieving academic success, which both siblings work hard to do. 
"I do a lot of homework in the car and spend weekends working and catching up to balance it all," Marissa said.
After graduating, Marissa will continue balancing academic rigor with competitive swimming when she attends Emory University, a school that ranks as a top university nationwide. When looking at schools, Marissa prioritized the ability to be a true scholar-athlete.
"Mainly I was looking for a place where I could balance pre-med and swimming, which is hard to find," Marissa said. "Where my sister goes [Cornell], it would be extremely hard to do both, and I really wanted a place where I could do both, and also have a supportive team with a good academic school. I didn't only want to go for swimming. I only went on one official visit because I really liked Emory; there wasn't anything I didn't like about it. I felt like it was the best academic place where it was possible to balance the two."
Though only a sophomore, Alex already has his sights set on swimming collegiately as well.
"I just want to go as far as I can," Alex said. "I want to swim for the Air Force Academy when I actually graduate from Holy Trinity. Once I get into college swimming, I want to represent my school as best I can, as I want to here."
However, Alex has several lofty goals that he would like to achieve before graduating, the biggest of which is to break every single school swim record. In addition to this, he has some specific goals for next year.
"I want to get in the finals for state and get under 1:55 in the 200 IM," Alex said. 
Though Marissa may be graduating, there is no question that Alex will continue the legacy of Spies success in the Holy Trinity swim program. Even once Alex graduates, the Spies name will certainly live on in the record books. Between early morning workouts, long-term club seasons, and setting goals for themselves, it is clear that the siblings have worked hard to set themselves up for success and have earned every bit of it.