Halloween Night Without the Fright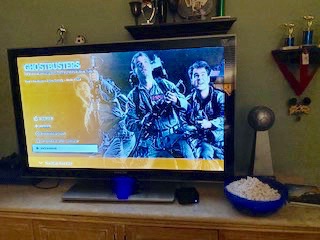 Trick or Treating is an unsure event this Halloween due to COVID-19. If you or your family are not trick or treating, a good alternative to celebrate the season is by watching horror movies. Horror movies like Saw, Nightmare on Elm Street, and Friday the Thirteenth are prime examples of classic movies to watch during the Halloween season.  
Horror movies aren't for everyone, though. Whether you're averse to gore or jumpy, horror movies might not be suitable for your Halloween night. There's still a plethora of non-horror Halloween movies to watch while you stay at home this Halloween.  
Ghostbuster is an obvious classic, with the poorly aged CGI diminishing any fear factor it may have had in 1984. The new movie, Ghostbusters Afterlife, is scheduled to release in March of 2021. Watching or rewatching the original will be a good refresher to anyone to those who haven't seen the movie in a long time and a set up for those who have never seen it. 
Disney's Hocus Pocus has become a classic among Halloween movies. It's family-friendly, but still has plenty of enjoyable moments for an older audience. This movie is perfect for a family audience.  
Beetlejuice is a movie not set on Halloween or around Halloween but is a good Halloween movie to watch nonetheless. The movie is directed by Tim Burton and contains his signature spooky flair. It has an incredibly slow start, with Beetlejuice arriving at around the half-hour mark, but picks up at the end.  
There are many other non-horror Halloween movies you can watch, but these are some I recommend. No matter what you may be doing this Halloween-a scary movie, a non-scary movie, trick or treating-just remember to be careful and stay safe.