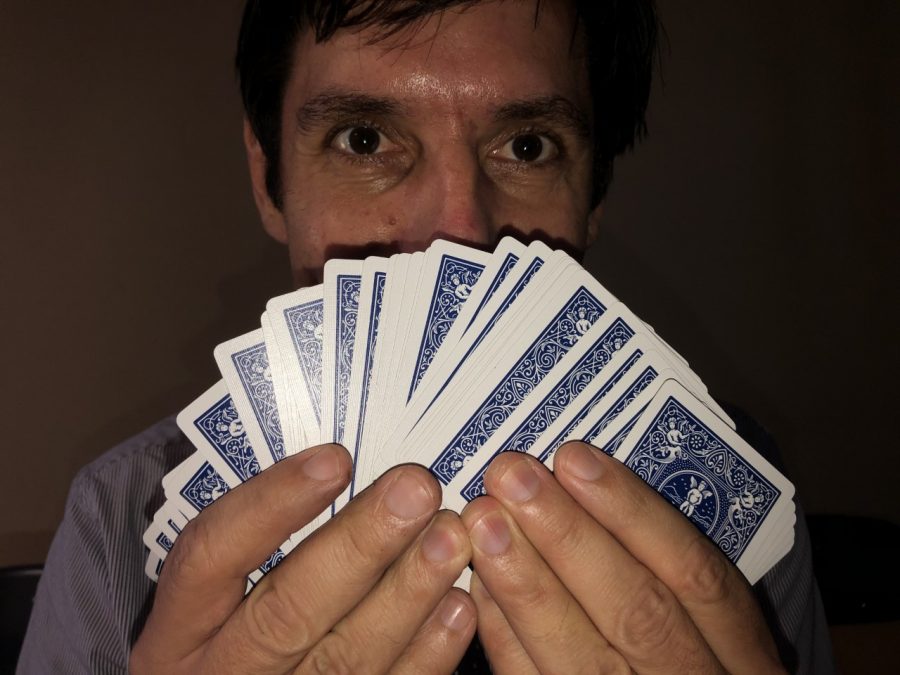 Alex Davenport
Although he focuses most of his class time on physics, if you have been fortunate enough to have Trevor Herntier as a teacher, you know he always has a few tricks up his sleeve.
He started doing magic 15 years ago, and was inspired because he had just started teaching 90 minute classes. "If there was five minutes left in class and instead of the kids going nuts, I would do a magic trick."
One of Herntier's favorite magic tricks of all time is the camera trick. He first starts with a person picking out a random card, then he mixes the cards face up and face down. Then he takes a picture of them with the person holding the mixed cards. Instantly all the cards face the same direction, except the card the person picked in the beginning. Then looking back on the photograph, going back in time, all the cards are facing one way, except for the card the person chose. 
Over the years he's lost count of how many tricks he's learned. He admits that learning magic tricks is hard, but you learn a few things and take off. "I bought one or two books then went from there. One of the books taught me how to hypnotise people," Herntier said.  Hypnotising people wasn't dangerous and he did it at a graduation party, and they were only hypnotised for 30 minutes. 
Herntier says he is not allowed to reveal the method behind his magic tricks, but he was generous to show me the first trick he ever learned as long as I didnt tell the magic gods.
Ever since COVID, Herntier hasn't done many magic tricks in class. "Last year I did it once a week, this year it's way less. Honest truth, because I feel bad for the online people that they don't get to see the trick," said Herntier.