Revisiting Taylor Swift's Fearless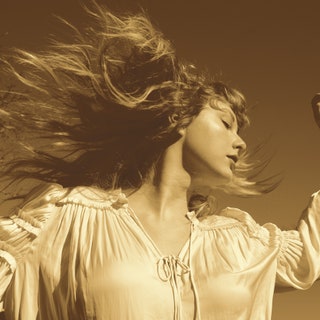 Taylor Swift's tenth studio album, Fearless (Taylor's Version) revisits 2008's Grammy Award winning Fearless as the first of six potential re-recordings to be released by Swift.
Swift originally announced her intentions to re-record her previous albums before the release of 2019's Lover, her seventh album, so that she could own her music following Scooter Braun's purchase of her old record label.
Fearless (Taylor's Version) contains all of the tracks from the deluxe version of the original record as well as six From The Vault tracks that previously didn't make the cut for the original album.
The record has been released to critical acclaim and commercial success, with classics such as You Belong With Me and Love Story, alongside the newly released You All Over Me, featuring background vocals from breakout country star Maren Morris, and Mr. Perfectly Fine, which alludes to Swift's past relationship with Joe Jonas. Anissa Dye and Danielle Koos, two of Holy Trinity's longtime Taylor Swift fans, both agree that Mr. Perfectly Fine is their favorite of the From The Vault tracks.
"My favorite vault track would have to be Mr. Perfectly Fine. I absolutely fell in love with it immediately. I also loved the banter that Sophie Turner added to it," says Koos, referring to Jonas's wife who posted the song on Instagram following its release.
When noting the overall improvements of the album, Dye says, "I think that Fearless (Taylor's Version) is better than the original because now she has all of this experience that she can use to perfect it. The 2008 version is obviously good but Taylor's has something added to it because she knows that she owns it and did everything to make it perfect." Similarly, Koos "loved hearing all of the small changes and getting to hear these songs for the first time again."
Both Dye and Koos agree that the changes made to the album added to 2008's Fearless without taking much away from the original experience. "I was beyond amazed with the re-recordings," Koos says. "I loved hearing how much her voice has grown and how she has matured overtime. 
Dye also expresses what many other Taylor Swift fans may also be feeling. Swift's re-release of Fearless opens the album up for new audiences, and fans of her more recent work will have the opportunity to experience the album for the first time. "I am finally getting the chance to live my Fearless era which I never got to do," she says.
While Swift has released three albums in the past year including folklore, evermore, and Fearless (Taylor's Version) the singer shows no signs of slowing down, announcing on Sunday April 18th that she had been recording her next album. Both Dye and Koos are looking forward to the re-recording of Swift's 2012 album Red, noting that All Too Well was originally 10 minutes long but was then cut down for the album. Dye is also excited for the new recording of Speak Now, Swift's third album and follow up to 2008's Fearless, looking forward to hearing Swift's new vocals on tracks Haunted and Enchanted. Both are looking forward to hearing Swift's future From The Vault tracks, hoping that some of the songs that were cut from albums Reputation and Red will make an appearance on their respective re-recorded albums.