Jacobsen earns silver medal at state dive meet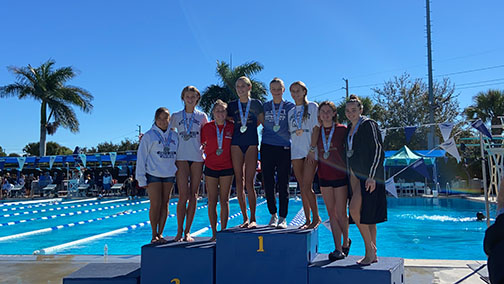 Junior Elle Jacobsen has ended her diving season with a splash, as she competed in the state meet on Saturday, November 6th. For Jacobsen, this is nothing new as she has qualified for the state meet every year since the ninth grade. She placed second, which is the highest she has ever scored in the state meet. Jacobsen also has her own mental preparedness methods.
"I use distractions such as music and talking with my friends so that way I don't get into my own head too much," said Jacobsen. Her goal was to be in either the top five or three, so keeping her focus was key. "I like to keep myself calm and have fun so that way stress doesn't get in the way of my performance," Jacobson said. 
Elle has been diving since she was nine  years old and would like to dive in college, so she hopes to get some good college offers after the state meet.  
"A lot of people came out to support me so that was really awesome," said Jacobsen. With her family, friends, and teammates cheering her on, she had a really consistent meet. Her total score was 441.
"My coach and the other girls were really great. When we got the results everyone was hugging each other and being really supportive, so it made a fun and positive environment."