The Sky is the Limit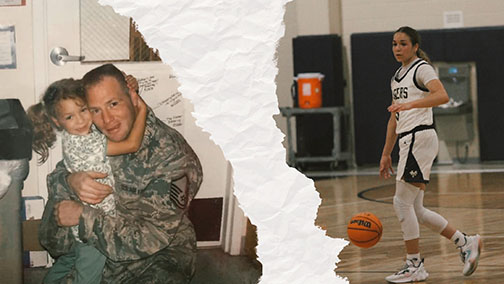 As she gets ready for the game the sounds of the crowd hype her up. Then the whistle blows and her heart is beating and she feels nervous but in a good way. This is the story of how Lynn Rieth got into the sport she loves and where she wants it to take her. 
Rieth was born in Miami and grew up watching the Miami Heat on TV. She was always fascinated with the sport of basketball. After watching the Heat play, the little 6 year-old-girl would try and imitate their game with the basketball hoop in her front yard. She quickly fell in love with the sport and every day she would play on the court at school. Her older brother, Matt Rieth, would play with her so she always had a brotherly influence to do basketball as well. 
She actually never played on an indoor court until she moved to Melbourne, Florida when she was in first grade. After she moved to Melbourne she did both club and school basketball. She went to MCC freshman year and then transferred to HT to play ball here.
She immediately stood out in the girls basketball program at Holy Trinity and played a huge role in her team's victory in the district championships last year. She plans on continuing this path and going into college and possibly professional basketball. She would like to play basketball for the Air Force Academy. This goal is inspired by both other parents; who have served in the military. Especially her father who has served 33 years in the military. She quotes "I plan to play college ball, probably attend the Air Force Academy and maybe go overseas or go pro, depending on how I do," said Rieth. 
She says her biggest inspirations are her dedicated, hardworking parents and her basketball trainer, Ganon Baker.