Red (Taylor's Version)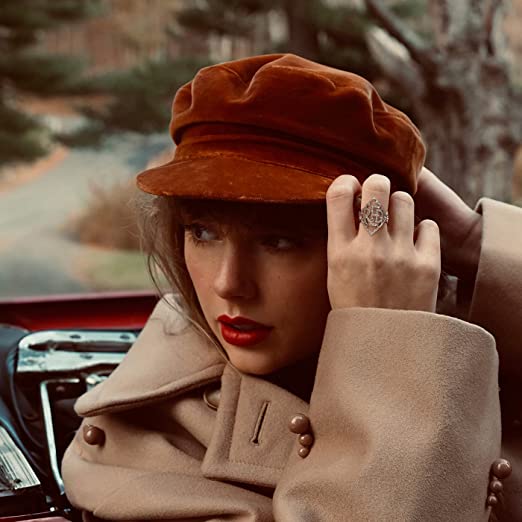 Taylor Swift continues to re-record her albums with Red (Taylor's Version), revisiting the 2012 album that marked Swift's shift from country to pop and gained Taylor Swift mainstream success with hit songs such as I Knew You Were Trouble, We Are Never Ever Getting Back Together, and 22.  
Taylor Swift started re-recording her own music after the masters of her first six albums were bought by Scooter Braun. In a move to regain her music without having to sign onto Braun's label, Swift announced she would re-record all her old albums she had made before signing with Universal Records in 2019. Her first re-recorded album was Fearless (Taylor's Version), released earlier this year. 
Red (Taylor's Version) not only contains re-recorded versions of all the previous songs from Red and its deluxe tracks, it also contains 9 all-new tracks that were cut from the original album, a highly anticipated 10-minute version of All Too Well, a song from the original Red, and a short film starring Sadie Sink and Dylan O'Brien based around this version of All Too Well. 
Swift's long-awaited Red (Taylor's Version) has delighted new and old fans alike. Three Holy Trinity students and Swift fans, Anissa Dye, George Widmer, and Sophia Kolchun, were impressed with the changes in Taylor's voice and style in this new version. 
"Her voice has matured like a fine wine. I noticed a difference right away. Her voice sounds like heaven on this album, and especially with the heavy topic of heartbreak that this album deals with, I think the more mature voice really fits," Widmer said.  
"You can definitely tell that she's gotten better at singing over time. She sounds more clear and enunciated. The new songs are more pop than country, as well," Kolchun said.
"The biggest change, I think, was the change from pop to country, because pop's her genre now," Dye said.
Dye and Kolchun both agree that their favorite of the From The Vault songs is The Very First Night. With it's upbeat tone and soaring vocals, The Very First Night cements itself as a catchy pop song on an album predominated by heartbreak and break up songs. Widmer disagrees, with his favorite From The Vault song being Better Man.
"It reminds me a lot of my past friendships. For example, the line , 'I know why we had to say goodbye, like the back of my hand, but I just miss you and I just wish you were a better man.' It hit me the hardest because I've had a lot of friendships that have screwed me over," Widmer said. "There were so many times when I wished that a friend didn't act the way they did. That idea of just wishing someone was a better person because you want to be with them so much, but you can't because of them really hit me." 
The re-recorded songs had a split opinion, with Dye's favorite being I Almost Do, Widmer's favorite being Holy Ground, and Kolchun's favorite being Begin Again.
"I loved Begin Again on the old album, and now that she's older and more mature, it has a sentimental feeling to it," Kolchun said. Dye and Widmer agree that their old favorites have only gotten better with the changes in Swift's voice.  Both Dye and Widmer agree that State of Grace is the least interesting song on the album. This re-recorded version of State of Grace brings nothing new and is one of the country heavy songs on the more pop leaning album.
The long awaited version of All Too Well was a success to Kolchun, but a disappointment to both Dye and Widmer. 
"I liked the new sound behind. It sounds more like pop music in the instrumentals. And also, the new verses were so good," Kolchun said. Dye and Widmer both shared similar thoughts about the new verses and the instrumentals, but were disappointed that the song did not live up to the hype. 
"I loved all the new lyrics, but I really hated how the climax of the song was at the five minute mark. The last two or three minutes are just the same thing over and over again, fading out," Widmer said. "The second half of the song kind of made me upset because a big thing to me is having a proper vocal climax and a steady production. But in this song, it wasn't there and it wasn't all together. Not that the song is a bad song. I just wish that it had a more organized pacing with the climax."
"I was expecting so much more with all the hype," added Dye. 
The three fans are split on what they want to see Taylor re-record next. The four albums she has yet to re-record are her self-named album, Taylor Swift (2006), Speak Now (2010), 1989 (2014), and Reputation (2017). 
"I really want her to re-record Speak Now because that's my favorite Taylor Swift album," Kolchun said. "Specifically when she does Enchanted,  because that is my favorite song of all time." Dye is also looking forward to the new version of Speak Now, however only for the previously mentioned track Enchanted. 
Widmer looks forward to Swift's re-recorded pop albums. "What I'm most excited to see is a toss-up between 1989 and Reputation," Widmer said. "If I had to choose one, I'd say 1989 because I want to hear Wonderland again."  Both of these albums are more recent and thus, more based in pop music instead of country. They also have the most fan theories surrounding them, with fans speculating who tracks such as Wonderland were written about. Fans believe Swift may leave hints in her re-recorded versions to the true meanings behind some of her most speculated about songs. 
Whether Taylor re-records a new album or creates a brand new one, she shows no signs of stopping. With four critically acclaimed albums released over the last two years, two entirely original and two re-recorded albums, Taylor Swift becomes even more influential and popular. Dye, Widmer, and Kolchun are all excited to see where Swift takes her music next and hope that new and old fans alike will enjoy her next re-recorded or new album.