Wind in Her Sails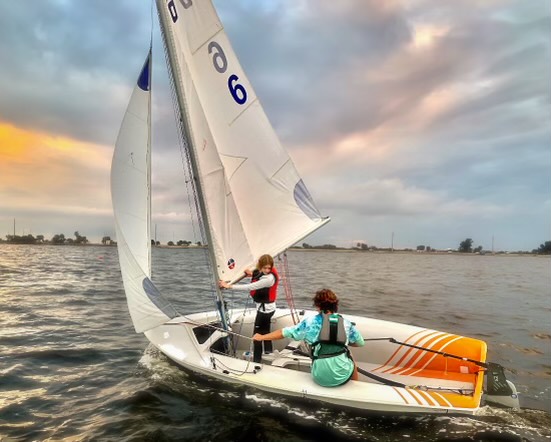 Most people lace up their cleats and run onto the field before sports practice, freshman Lil Bieda hoists her sails and jumps in the boat. Bieda sails on the Eau Gallie sailing team as one of the few Holy Trinity representatives. Although Holy Trinity does not have an official sailing team, she takes the sport as seriously as she would if it was a Holy Trinity sports team. 
Bieda loves how the sport challenges her both physically and mentally. Her practices take place during the sunset, sailing beside the dolphins. Bieda likes that when she is on the water, she is able to forget the stresses of the day and focus on her sport. "All you can think about is where your wind is coming from, how can I fix the current to redirect my boat," said Bieda.
She began sailing in the summer of 2021. Her stepdad is a sailor, and when he took her mother out for a trip to Granada on his boat, she knew Bieda would love it. When they got back from their trip, her family took her out on the water on a catamaran, and Bieda fell in love. She then went on to do a Summer camp with the Naval Academy in Maryland. She was already familiar with the military lifestyle because she grew up in a military family. However, doing the camp put a new perspective on the Navy for Bieda. The camp furthered her intrigue with sailing and got her interested in joining the Navy. "I love the idea of serving my country with what I love," says Bieda.
Bieda calls the sport a hidden gem. "More people should do it, we always need more women in that industry," she says. Her role model is one of the U.S. Navy's commanders. She was the first woman to command a battleship. Bieda hopes to become a role model for young female sailors just like her. One thing she does to grow in her skill is that she keeps a journal where she writes down everything that happens after practice, and the next practice she works on it."Everyone starts somewhere and there is just so much room to grow with it," says Bieda. 
Sailing has changed Bieda for the better. Bieda's passion for the sport gives her a drive for her future with the sport both as a student at Holy Trinity and in the Navy. One day she hopes to go beyond the U.S and sail across the world.